Play The Trailer>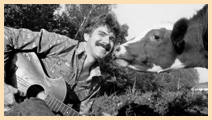 Screenings
Screenings
Wed, November 5 7:30pm
Brattle Theatre
40 Brattle Street
Cambridge MA
Benefit for Folk New England

Director Rob Stegman &
Tom Rush attending!

Friday, November 7 8pm
Palace Theatre
165 Main Street
Danbury CT
Director Rob Stegman &
Tom Rush attending!

"TOM RUSH: NO REGRETS" is an 83-minute documentary about the influential folk legend, who also helped propel Joni Mitchell, James Taylor, and Jackson Browne into the spotlight features interviews with Tom Rush, James Taylor, Elektra Records' Jac Holzman, and DJ Dick Summer, plus musical cameos by David Bromberg, Buskin & Batteau, Jonathan Edwards, and Dom Flemons of the Carolina Chocolate Drops.
Folksinger, songwriter, and guitarist Tom Rush recalls his illustrious and unconventional career in the new documentary, Tom Rush: No Regrets. The film chronicles Rush's life, mostly from his own humorous, self-deprecating perspective. Tom Rush: No Regrets includes exclusive footage of the folk icon retracing his developmental New England footsteps, as well as recent concert appearances at Club Passim (formerly Club 47) and a 50th anniversary celebratory concert at Boston's prestigious Symphony Hall in December 2012. The documentary is also interspersed with archival footage, photographs, and clippings.